Diego Brown fires Real Kings into Ke Yona quarters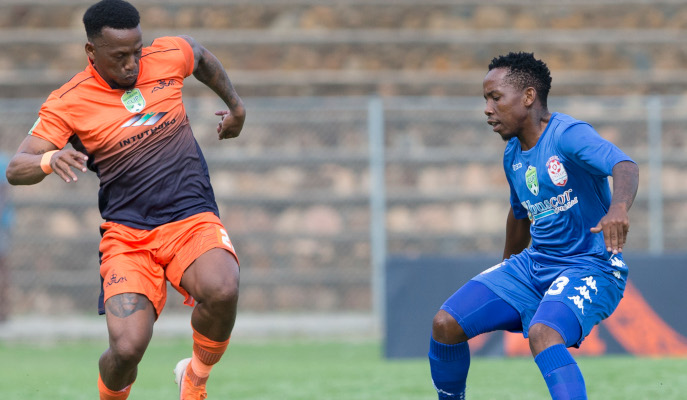 Real Kings booked their place in the Nedbank Cup quarterfinals with a 2-1 victory over Mbombela United at the Kanyamazane Stadium on Saturday afternoon.
Diego Brown netted a late winner for the visitors as they advance onto the last eight in place of their GladAfrica Championship rivals.
The hosts saw most of the ball in the opening stages, but it was the visitors who opened the scoring 19 minutes into the match.
Lesvin Stoffels controlled the ball well before firing past Mbombela goalkeeper Luzoko Jevuka to make it 1-0 to Kings.
Mbombela then took control of the match and they managed to restore parity just after the half-hour mark.
Phetolo Sekome and Humphrey Khoza combined brilliantly before the former hit the back of the net to make it 1-1.
The two teams then pushed for more goals with the halftime break approaching, but they could not find the back of the net.
The score was 1-1 at halftime.
The home side applied some pressure on the visitors after the restart and Hugo Nyame became a very busy man in the Kings goal-posts.
The Cameroonian shot-stopper produced two great saves to deny Sekome, who was looking to hand the hosts the lead.
Kings coach Michael Lukhuene reacted by introducing Levy Mashiane as the visitors searched for another goal in the latter stages of the match.
The away side came very close to grabbing a late winning goal when Edward Manqele's header hit the crossbar with Jevuka well-beaten.
Brown proved to be the hero for Lukhuene's side as he grabbed a late winning goal in stoppage time to seal Kings' 2-1 win over Mbombela.
Mbombela United (1) 1 (Sekome 33')
Real Kings (1) 2 (Stoffels 19', Brown 90'+3)
Mbombela United: Jevuka, Dladla, Khoza, Mabuza, Ndlela, Ndlovu, Thabotha, Marks (74'), Badenhorst, Figuareido, Sekome (Nkhatha 82').
Real Kings: Nyame, Mkhize, Manganyi, Cele, Mabua, Dlamini, Nene (Wambi 46'), Brown, Stoffels, George (Manqele 46'), Zimu (Mashiane 61').