Mendieta rescues Stellies against Celtic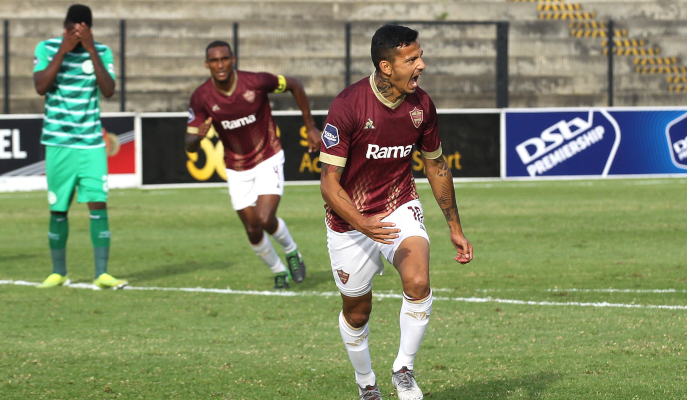 Stellenbosch FC fought back to hold Bloemfontein Celtic to a 1-1 draw in the DStv Premiership match at the Danie Craven Stadium on Saturday afternoon.
The draw saw Stellies and Phunya Sele Sle remain 12th and 10th respectively on the league standings with six games left for both teams.
The match got off to a slow start with the two teams struggling to create chances in the opening exchanges as they gave away possession too cheaply in the final third.
The first real chance of the game came in the 16th minute and an unmarked Tshepo Rikhotso hit the side-netting with a free-header after Stellies' defence was caught ball watching.
Stellenbosch then responded by pressing Celtic and they were awarded three set-pieces in quick succession, but they failed to trouble Tshepo Chaine in the visitors' goal-posts.
The deadlock was broken in the 33rd minute when an unmarked Sello Matjila scored at the back post to hand Celtic a 1-0 lead with Given Mashikinya grabbing an assist.
Celtic were then able to contain Stellenbosh and Phunya Sele Sele were leading 1-0 at the interval.
Stellenbosch head coach Steve Barker made a tactical change prior to the beginning of the second-half as he pulled out midfielder Phathutshedzo Nange and he introduced Leletu Skelem.
The hosts had a chance to level matters a minute before the half-hour mark, but somehow Ashley Du Preez placed his shot over the crossbar and Phunya Sele Sele survived a scare.
Barker's charges kept pushing for the equalising goal and they were awarded a penalty in the 70th minute and Junior Mendieta scored from the spot-kick to make it 1-1.
Both teams then launched attacks as they searched for the winning goal with Celtic having introduced Lantshane Phalane, while Stellenbosch brought on Asavela Mbekile in the closing stages.
However, they could not find the back of the net in the dying minutes and ultimately, the match ended in a 1-1 stalemate on the day.
Stellenbosch (0) 1 (Mendieta 71')
Celtic (1) 1 (Matjila 33')
TEAMS:
Stellenbosch:Stephens, Macheke, De Goede, Mthethwa, Van Heerden (Mendieta 63') Sinkala (Msengi 63'), Nange (Skelem 46'), Jabaar, Adams, Van Rooyen (Mbekile 83'), Du Preez (Avontuur 89').
Bloemfontein Celtic:Chaine, Baloyi, Matjila (Ndwandwe 86'), Ngobeni, Rikhotso, Mahashe, Kobedi, Mashikinya (Phalane 79'), Maema, Letsoalo (Van De Ross 79'), Sera (Tchilimbou 60').