Nedbank awards a multipurpose sports court to a school in Limpopo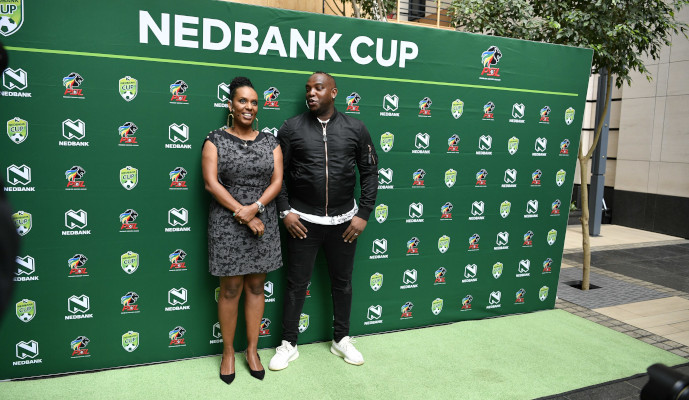 The Nkgonyeletse Senior Secondary School in Ga-Mashabela, Limpopo, has become the ninth recipient of a multipurpose sports facility provided by Nedbank, in partnership with The Sports Trust. The R2 million facility was officially handed over to the school today, 3 September 2021, as part of Nedbank's #PlayYourPart campaign. Nedbank gave Marumo Gallants FC, the 2021 Nedbank Cup winners, the opportunity to contribute to football development by selecting a school in their region, where the sports facility would be built.
'We are exceptionally delighted to handover yet another multipurpose sports facility, this time in Limpopo. Sport development forms an important part of our sponsorship philosophy, and through our partnership with The Sports Trust over the years, we have and continue to create opportunities that not only benefit schools but the communities in which the schools exist. Our sponsorship of the Nedbank Cup has also provided us the opportunity to work together with local teams and create a truly tangible impact in South African football. We would like to thank the 2021 Nedbank Cup winners, Marumo Gallants, who heard our call and played their part for the Nkgonyeletse Senior Secondary School,' said Khensani Nobanda, Nedbank's Group Executive for Marketing and Communications.
The official handover was conducted by the Minister of Sport, Arts and Culture, Nathi Mthethwa, Minister of Basic Education, Angie Motshekga with Nedbank, Marumo Gallants FC, The Sports Trust and the Premier Soccer League (PSL). Also in attendance were Limpopo MEC for Sport, Arts and Culture Thandi Moraka, Limpopo MEC for Education Polly Boshielo, Sekhukhune District Municipality Mayor Keamotseng Ramaila, Makhuduthamaga Local Municipality Mayor Mina Bahula and Mohumagadi Mante Mashabela of the Mashabela Royal House.
'Let me take this opportunity and applaud both Nedbank and Marumo Gallants for ensuring that the youth of Mmalegasane (Limpopo) have access to such a world class facility. This will in the main, assist government in reducing the current sport facility backlog inherited from the apartheid legacy. For us to be able to create positive citizenry, we need to ensure that our youth have access so that in the long run they can also be competitive. One of the key fundamentals of the transformation report centreed around lack of facilities among the previously disadvantage communities and this need to be expeditiously resolved so that we can have an active and creative winning nation. Thanks once more to Nedbank for such an initiative,' stated Minister Nathi Mthethwa.
The multipurpose sports court is part of the Nedbank Sport and Education Development Programme which was launched in 2010 in partnership with The Sports Trust. More than 10 years later, the programme continues to provide access and opportunities for learners, schools and communities to participate in sports.
'We are extremely grateful to Nedbank for donating such excellent facilities to our children. I'm told that this is the 9th multipurpose sports grounds that Nedbank has generously donated to our schools mainly in rural areas to assist us to keep our children active, healthy and occupied during these challenging times of Covid 19. This donation comes at a perfect time after the lifting of the suspension of school sports as I announced last month. Our children can now fully utilize and enjoy these facilities, of course under the prevailing Covid 19 protocols of no spectators, wearing of masks, regular hand-washing, sanitizing and social distancing.
Through the Nedbank Cup, Nedbank's partnership with the PSL continues to make an impact in local soccer, inspiring up and coming players through initiatives such as the multipurpose sports court.
'The multipurpose sports court is a suitable vehicle to enhance education through sport for our youth in South Africa, and we are proud to partner with Nedbank to bring these world-class facilities to communities,' says Anita Mathews, Executive Director at The Sports Trust. 'Since 2013 Nedbank has donated a total of nine state-of-the-art multipurpose sports courts, including today's court, which accommodates five codes of sport on one court, namely: five-a-side soccer, netball, basketball, volleyball and tennis. This facility has a 20-year lifespan, 15-year warranty, is eco-friendly, provides lateral forgiveness on the joints, has zero waste and it is low maintenance.
Established in 1976, the Nkgonyeletse Senior Secondary School currently has 313 learners who participate in sports like soccer, volleyball and netball. With the new state-of-the-art multipurpose sports court, the school hopes to encourage more participation and introduce other sporting codes like tennis and basketball.