Pretoria Callies: How Masterpiece Moripe inspired their historic return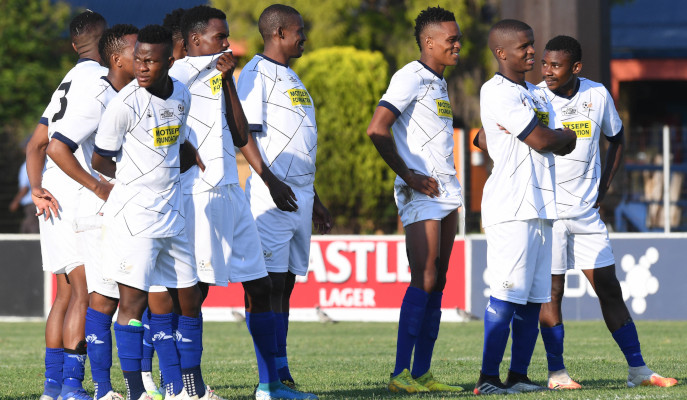 History matters. History matters in life. History matters in sport. That is why people keep records. That is why the scoreboard matters. That is why clubs keep trophies in their cabinets at the club offices. It is to preserve history.
History is a reference point: It is not just a reminder of what we have been but what we can be. History inspires the future. That is why storytelling matters – to give a reference point to a people about who they have been.
For Pretoria Callies – the newly promoted GladAfrica Championship side – history matters a great deal. That is why Lucas Masterpiece Moripe is mentioned every second sentence in their story. Because Masterpiece Moripe is their reference point – the man who symbolised and still symbolises glory days of what was once and what could still be (future).
That is why the club made a trek to Lucas Moripe's house on the eve of their ABC Motsepe Play-offs not only to seek blessings but importantly to be in the presence of a symbol whose history inspires the club.
Lucas Moripe was the cult hero of the club in the 1970s. He is a symbol of a period of 'plenty' and success. This is before he moved to play for Soweto giants.
"You cannot talk about Pretoria Callies without mentioning Lucas Moripe," says club chairman Moses Malada.
"He has been part of us for a long time now. For our home matches, we have a car that specially goes to fetch him to come watch the club play. Before the Play-offs, we went to visit him, we spoke to him about our plans for the Play-offs. We also went to see him when we were going to play the final match. We even brought him to watch the game. Lucas Masterpiece Moripe is Pretoria Callies. It is important for current players to know this and to know the history of this individual. His story is closely linked to us."
After many years in the wilderness, Pretoria Callies returned to the professional ranks thanks to their impressive performance at the ABC Motsepe Play-offs. This ends decades in the periphery of football dynasty – the era whereby many had seemingly erased their name from the glorious yet undocumented history of South African football.
The past achievements of Lucas Moripe and his generation have been the wind beneath their wings. However, as the 2020/21 GladAfrica season approaches this weekend, the new generation of players will need to pen their own history.
Their journey in the GladAfrica Championship starts on 05 December 2020.
For them to succeed in the country's second most competitive league, they will need to summon all the courage and classy perfomances.
Now is the time for the current generation to create their own history and emulate Lucas Moripe and his generation. History, after all, has no blank pages.