Match Facts: Golden Arrows vs SuperSport united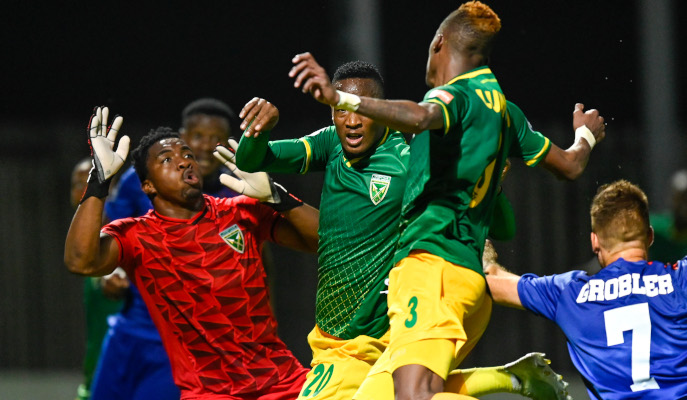 This will be the first ever meeting between the two sides in the MTN8 having never before faced-off in the top eight competition.
SuperSport United have appeared in every single MTN8 competition that has been played since the start of the Premier Soccer League, the only club to have achieved this feat.
Lamontville Golden Arrows are appearing in the competition for the sixth time. Their five previous showings have resulted in four quarterfinal exits and a stunning trophy victory in 2009, when they defeated Ajax Cape Town 6-0 in the decider. That remains the biggest ever margin of victory in a South African cup final.
SuperSport have been to the MTN8 final in three of the last four years, winning in 2017 and 2019, but losing out in 2018. Last year they reached the semifinals before losing to Bloemfontein Celtic in a surprise upset.
Before their excellent run in the competition, SuperSport had lost in the quarterfinals of the MTN8 in seven of the previous eight seasons. The odd year out was when they made the final in 2012 but lost to Moroka Swallows.
Golden Arrows and SuperSport have met on 46 previous occasions, with Matsatsantsa leading the head-to-head 23-15 and eight draws. They have also outscored their opponents 71-47.
The teams have clashed in six cup matches before, though all have been played as home games for SuperSport, meaning this fixture will create history of sorts. SuperSport lead the head-to-head in those 4-2.
The teams have met on 20 occasions at Golden Arrows, all in the league. SuperSport are in front there as well, leading the head-to-head 9-8 with three draws. They have scored 25 goals to 22 for the home side.
Recent form is heavily stacked in the favour of Golden Arrows though as they have dominated SuperSport of late. They have won each of the last three meetings, and four of the last five with the other game drawn. SuperSport's last victory over Golden Arrows was 3-2 league success in February 2019. That is their only win in the last eight meetings dating back four years.
This will be the first game in charge of Golden Arrows for new coach Lehlohonolo Seema, who has just taken over the side from Mandla Ncikazi. SuperSport coach Kaitano Tembo is entering his fourth season as head coach, but has been with the team in various roles for more than two decades.
ALL PREVIOUS MEETINGS
2000/01
Arrows 0 SuperSport 2 (Seopa, Alexander)
SuperSport 5 (Khoabane, Maboe, Solomons, Motlhajwa, Madigage) Arrows 1 (Phakathi)
2001/02
SuperSport 3 (Mnguni, Seopa, Nkambule) Arrows 1 (Dlamini)
Arrows 2 (Mavimbela, Dlamini) SuperSport 1 (Madigage)
2002/03
Arrows 0 SuperSport 1 (Mokoro)
SuperSport 1 (Mwamba) Arrows 2 (Gumbi, Khanyeza)
2003/04
Arrows 1 (Zothwane) SuperSport 0
SuperSport 0 Arrows 2 (Ngobese, Milanzi)
2004/05
Arrows 1 (Gumbi) SuperSport 1 (Katza)
SuperSport 2 (Klate, Ndlela) Arrows 1 (Khenyeza)
2005/06
SuperSport 1 (Tsabedze) Arrows 0
Arrows 2 (Khenyeza 2) SuperSport 3 (Klate, Mathopa, Inusah)
2006/07
SuperSport 5 (Kawondera, Tsabedze 2, Mashego, Katza) Arrows 1 (Khenyeza)
Arrows 1 (Vilakazi) SuperSport 1 (Chamanga)
ABSA Cup 2nd Rd – SuperSport 1 (Klate) Arrows 0
2007/08
Arrows 0 SuperSport 1 (Pelembe)
SuperSport 2 (Tefera, Mashego) Arrows 0
2008/09
Arrows 0 SuperSport 2 (Pelembe, Laffor)
SuperSport 1 (Masina) Arrows 2 (N.Zothwane, R.Henyekane)
2009/10
SuperSport 1 (Khumalo) Arrows 1 (N.Zothwane)
Arrows 1 (R.Henyekane (pen)) SuperSport 0
2010/11
SuperSport 0 Arrows 0
Arrows 4 (Mbesuma 2, Moon, Sangweni) SuperSport 2 (Gould, Langerman)
Nedbank Cup 1st Round – SuperSport 3 (Erasmus, Selolwane, Laffor) Arrows 1 (N.Zothwane (pen))
2011/12
SuperSport 2 (Nyondo, Niang) Arrows 1 (Mashego)
Arrows 1 (Mashego) SuperSport 2 (Gould, Hartog)
Telkom Knockout Cup 1st Rd – SuperSport 0 Arrows 1 (Mbesuma)
2012/13
SuperSport 2 (Cale, Diouf) Arrows 2 (Hadebe, Smith)
Arrows 0 SuperSport 1 (Doutie)
2013/14
SuperSport 3 (Chenene, Grobler, Mathebula) Arrows 1 (Shange)
Arrows 1 (Ntuli) SuperSport 0
2014/15
Nedbank Cup quarter-final – SuperSport 1 (Grobler) Arrows 0
2015/16
SuperSport 1 (Nkhatha) Arrows 2 (Mathiane, Mahachi)
Arrows 0 SuperSport 3 (Wome, Nkhatha pen, Brockie)
Telkom Knockout Qfinal – SuperSport 3 (Nkhatha, Brockie 2 (1 pen)) Arrows 1 (Katjiukua)
2016/17
Arrows 1 (Bilankulu) SuperSport 1 (Nkhatha)
SuperSport 5 (Letsholonyane, Phala, Msowoya og, Alexander, Gould) Arrows 2 (Majachi, Lamola)
2017/18
SuperSport 3 (Letsholonyane, Modiba 2) Arrows 0
Arrows 1 (Mahachi) SuperSport 0
2018/19
SuperSport 1 (Sibisi og) Arrows 1 (Conco)
Arrows 2 (Mutizwa pen, S.Parusnath) SuperSport 3 (Rusike, Macuphu, Mokoena)
2019/20
SuperSport 0 Arrows 0
Arrows 1 (Fluers og) SuperSport 0
Telkom Knockout QFinal – SuperSport 0 Arrows 1 (Mtshali)
2020/21
Arrows 3 (Mathiane, Ndwandwe, Makhubela) SuperSport 1 (Mokoena)
SuperSport 0 Arrows 1 (Sibiya)