Match Facts: Orlando Pirates vs Swallows FC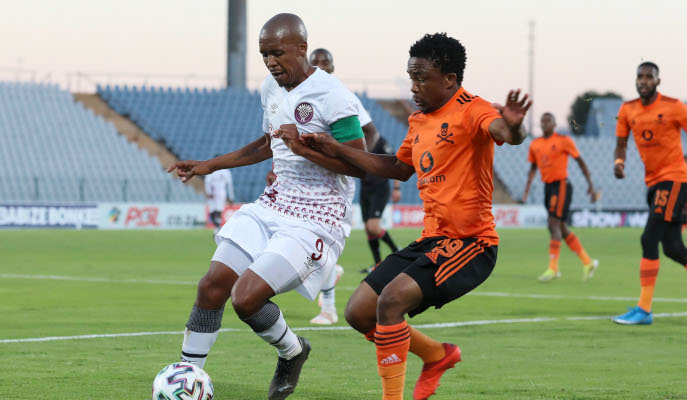 This will be just the third meeting between the two sides in the MTN8 competition since the National Soccer League was formed in 1985.
Both of the other two have significance in the history of Swallows FC. The first was a 5-0 loss in the quarterfinals in 2002 which is also the club's joint heaviest ever defeat. The second was the final in 2010 when the teams played to a 1-1 draw, before Orlando Pirates triumphed 4-2 on spot-kicks.
That disappointment for Swallows would be tempered two years later when they made the final again and won the competition under coach Zeca Marques, beating SuperSport United in the decider. That is one of three title wins for The Birds.
Pirates have won the MTN8 competition on 10 previous occasions and are the current holders after victory over Bloemfontein Celtic in last season's decider. Only Soweto rivals Kaizer Chiefs have lifted the trophy more times (15).
Pirates' victory in the final last year ended the club's run of six years without a trophy of any kind, and nine years since they had won the MTN8. It was also a first piece of silverware in South Africa for their German coach Josef Zinnbauer.
Pirates and Swallows is the original Soweto Derby and the oldest of the current fixtures in South Africa's top flight.
In matches played since the formation of the National Soccer League in 1985, a draw has been the most common result with 32. Pirates lead the head-to-head 30-17 in the 79 games played. They have outscored their opponents 98-73.
In all cup games it is The Buccaneers who just have their noses in front. There have been 17 played, with Pirates leading 7-5 on the head to head and another five draws. Pirates have scored 23 goals to Swallows' 17 .
This is a first cup meeting between the teams in a decade, since Pirates claimed a 2-1 success in the quarterfinals of the now defunct Telkom Knockout in 2011.
In matches played at Pirates, the home side lead the head-to-head 14-8 with 16 draws from the 38 matches. It is tighter when you take only cup games at Pirates, with two wins each and two draws from the six games.
With draws such a heavy feature of this fixture in the past, we could be in for another one if the two teams' recent fortunes are anything to go by. Swallows set a PSL record with 20 draws in a single season last year, while Pirates were involved in 11.
ALL PREVIOUS MEETINGS SINCE 1985
1985
Swallows 1 (Hlongwane) Pirates 1 (M.Sithole)
Pirates 1 (Mogale) Swallows 1 (Hlongwane)
1986
Pirates 1 (Steenkamp) Swallows 1 (Mpondo)
Swallows 3 (Hlongwane 3) Pirates 4 (Sishweni 3, M.Sithole)
1987
Swallows 1 (Motaung) Pirates 0
Pirates 0 Swallows 3 (Mangena, Mnini, Malebane)
1988
Swallows 2 (Malebane, Mnkomo) Pirates 2 (M.Sithole, own goal)
Pirates 0 Swallows 0
1989
Swallows 1 (Sekano) Pirates 0
Pirates 1 (Steenkamp) Swallows 0
JPS Sfinal 1st Leg - Pirates 1 (Potsane) Swallows 1 (Grobler)
JPS Sfinal 2nd Leg - Swallows 2 (Cousins, Grobler) Pirates 1 (Masegela)
1990
Swallows 2 (Peterson 2) Pirates 3 (Masegela 2, Nogueira)
Pirates 1 (Gwabeni) Swallows 1 (Hlongwane)
JPS QFinal - Pirates 2 (Masegela 2) Swallows 1 (Grobler)
1991
Pirates 1 (Mathe) Swallows 1 (Peterson)
1992
Pirates 1 (Nyathi) Swallows 1 (Grobler)
Swallows 0 Pirates 1 (Noguiera)
Bob 2nd Rd – Swallows 1 (Wille) Pirates 1 (Masegela) - Swallows won 4-3 on penalties
1993
Swallows 1 (Mabuza) Pirates 0
Pirates 0 Swallows 1 (Makgaledisa)
1994
Swallows 0 Pirates 0
Pirates 1 (Moloi) Swallows 0
Coke QFinal - Swallows 1 (Leepo) Pirates 0
1995
Pirates 1 (Ramokadi) Swallows 1 (Makgaledisa)
Swallows 0 Pirates 0
1996
Pirates 1 (Sebola) Swallows 1 (Tshabalala)
1996/97
Pirates 2 (Stober, Mkhalele) Swallows 1 (Makhaye)
Swallows 0 Pirates 1 (Ramokadi)
1997/98
Swallows 1 (Molatedi (pen)) Pirates 2 (Pam (pen), Opara)
Pirates 2 (Sebola 2) Swallows 0
1998/99
Pirates 4 (Zuma, Mkhize, Sikhosana, Sebola) Swallows 1 (Ntsoelengoe)
Swallows 0 Pirates 0
1999/2000
Swallows 1 (Ningiza) Pirates 1 (Lekoelea)
Pirates 5 (Lekoelea, Zuma, Mngomeni, Lota 2) Swallows 0
Rothmans Cup 1st Rd 1st Leg - Swallows 2 (Ningiza 2) Pirates 2 (Mnguni, Zuma)
Rothmans Cup 1st Rd 2nd Leg – Pirates 0 Swallows 0
Bob Save Super Bowl 2nd Rd – Swallows 0 Pirates 1 (Mncwanga)
2000/01
Pirates 1 (Manyathela) Swallows 0
Swallows 1 (Ningiza) Pirates 1 (Mtawali)
Rothmans Cup Semi Final 1st Leg – Swallows 1 (Nombe) Pirates 2 (Lota, Mngomeni)
Rothmans Cup Semi Final 2nd Leg – Pirates 0 Swallows 1 (Matshitse)
Bob Save quarter final – Swallows 1 (Nombe) Pirates 0
2001/02
Swallows 0 Pirates 0
Pirates 3 (Chikoya, Manyathela, Lekoelea) Swallows 0
2002/03
Swallows 0 Pirates 1 (Manyathela)
Pirates 1 (Manyathela) Swallows 2 (Mendu, Sebona)
BP Top 8 Cup quarter final – Swallows 0 Pirates 5 (Kauleza 3, Manyathela 2 (1 pen))
2003/04
Swallows 0 Pirates 1 (Kauleza)
Pirates 2 (Mothibi, Kauleza) Swallows 2 (Ngobeni, Lewis)
ABSA Cup quarter final – Pirates 0 Swallows 2 (Lota, Ngwerume)
2004/05
Swallows 2 (Permall, Phiri) Pirates 2 (Lekoelea, Arendse)
Pirates 1 (Manenzhe) Swallows 1 (Lota)
2005/06
Pirates 1 (Vilakazi) Swallows 0
Swallows 3 (Mokoro 2, Tsutsulupa) Pirates 1 (Vilakazi)
2006/07
Pirates 0 Swallows 0
Swallows 2 (Mohlala, Tsutsulupa) Pirates 2 (Chenene, Tico-Tico)
ABSA Cup 1st Rd – Swallows 0 Pirates 2 (Lekwathi, Mahlangu)
2007/08
Pirates 0 Swallows 1 (Oerson)
Swallows 0 Pirates 3 (Mushanazhike, Modise, Walaza)
2008/09
Pirates 1 (Mbuyane) Swallows 0
Swallows 2 (Denge, Ndlovu) Pirates 1 (Mthembu)
Telkom quarter final – Swallows 2 (Oerson, Morelato) Pirates 3 (Mbuyane, Mabalane Mushangazhike)
2009/10
Swallows 0 Pirates 1 (Mhlongo)
Pirates 2 (Mongala, Mahamutsa) Swallows 2 (Haschick 2)
2010/11
Swallows 0 Pirates 2 (Otorugo, Segolela)
Pirates 2 (Mabalane 2) Swallows 0
MTN 8 Final – Pirates 1 (Klate) Swallows 1 (Shivambu) – Pirates won 4-2 on penalties
2011/12
Pirates 1 (Jele) Swallows 1 (Mathebula)
Swallow 0 Pirates 0
Telkom Knockout Cup quarter final – Swallows 1 (Mungomeni) Pirates 2 (McCarthy 2)
2012/13
Pirates 0 Swallows 3 (Chenene, Maleka, Mashego)
Swallows 3 (Mashego, Tsutsulupa, Chabangu) Pirates 2 (Myeni, Jali (pen))
2013/14
Swallows 0 Pirates 1 (Erasmus)
Pirates 1 (Segolela) Swallows 0
2014/15
Pirates 1 (Manyisa) Swallows 2 (Phalane, Chabangu)
Swallows 1 (Nomvethe) Pirates 1 (Majoro)
2020/21
Pirates 1 (Motshwari) Swallows 1 (Mahlatsi)
Swallows 1 (Hlatshwayo og) Pirates 1 (Mabasa)