Match Facts: Sundowns vs Chiefs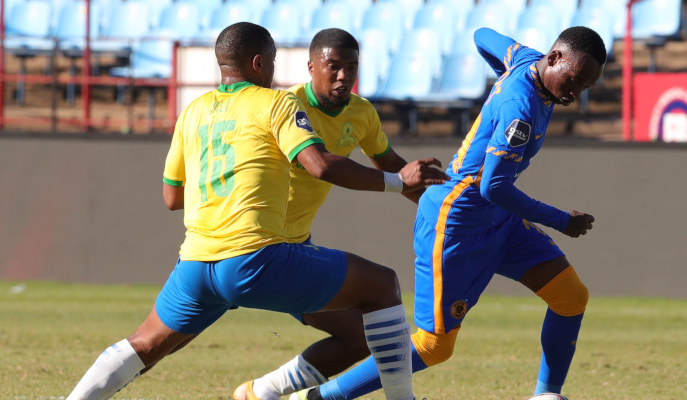 This will be the 100th meeting in all competitions between Mamelodi Sundowns and Kaizer Chiefs since the National Soccer League was formed in 1985.
The two giants have met in the MTN8 competition on seven occasions over that period, with Chiefs leading the head-to-head in terms of winning the ties 5-2, though two of those victories came via penalty shoot-outs after draws.
Four of the seven meetings have been in the final of the competition, with Chiefs running out winners in all – 1992, 1994, 2001 and 2008, the latter two by penalty shoot-outs.
Both Sundowns' victories versus Chiefs in the MTN8 competition have come in the quarterfinals – a 2-0 away victory in 1993 and a comprehensive 4-1 home win in 2012. That latter victory was achieved in the first game in charge for current Chiefs coach Stuart Baxter in his first spell at Naturena.
In all, the teams have met on 99 previous occasions since 1985, with Chiefs leading the head-to-head 41-29 and 29 draws. They have also outscored their opponents 117-97 in that time.
In cup matches in all competitions, the teams have clashed on 27 occasions, with Sundowns claiming only six outright wins from those. Chiefs have been victorious on 12 occasions and there have been nine draws. Chiefs lead the scoring stakes 36-30.
In matches at Sundowns' home venue, the teams have clashed on 42 occasions in all competitions, with Sundowns edging the head-to-head 17-16 and eight draws. They have also outscored Chiefs 45-41.
But in cup games at Sundowns, the fortunes are reversed. There have been just six previous meetings, with Chiefs winning four of those to Sundowns' two.
Both these teams recorded wins when they clashed in the league last season, Sundowns claiming an emphatic 3-0 away success, while Chiefs came from behind to beat The Brazilians 2-1. That is the only league loss suffered by Sundowns all season.
New Chiefs coach Stuart Baxter helped the side to MTN8 glory in 2014 when they edged Orlando Pirates 1-0 in the final thanks to a goal from Tefu Mashamaite.
Quite extraordinarily given their recent success, Sundowns have never lifted the MTN8 trophy in its current guise. Their last win in the competition was all the way back in 2007 when they also beat Pirates 1-0.
ALL PREVIOUS MEETINGS SINCE 1985
1985
Sundowns 0 Chiefs 0
Chiefs 1 (Khulu) Sundowns 1 (Chafunya)
1986
Sundowns 0 Chiefs 0
Chiefs 4 (Dladla 2, Thindwa, Ntsoelengoe) Sundowns 1 (Chafunya)
JPS 1st Rd - Chiefs 1 (Anderson(og)) Sundowns 0
Mainstay QFinal - Chiefs 2 (Shongwe, Molatedi (pen)) Sundowns 3 (Chitja, Chafunya, Mosimane (Pen))
1987
Sundowns 3 (Troughton, Chitja 2) Chiefs 1 (Molatedi pen)
Chiefs 0 Sundowns 2 (Chafunya, Masinga)
Ohlssons SFinal 1st Leg - Sundowns 0 Chiefs 2 (Mtimkulu 2)
Ohlssons SFinal 2nd Leg - Chiefs 4 (Molatedi 3, Ntsoelengoe) Sundowns 0
1988
Sundowns 2 (Chafunya, Legodi) Chiefs 0
Chiefs 3 (Maponyane, Khumalo, Motaung) Sundowns 0
Ohlssons SFinal 1st Leg - Chiefs 1 (Ntsoelengoe) Sundowns 1 (Chafunya)
Ohlssons SFinal 2nd Leg - Sundowns 1 (Masinga) Chiefs 0
1989
Sundowns 0 Chiefs 0
Chiefs 4 (Khuse pen, Khumalo, Thindwa, Maponyane) Sundowns 1 (Zondi)
1990
Sundowns 1 (Masinga) Chiefs 0
Chiefs 1 (MacGregor) Sundowns 1 (Mtawali)
1991
Sundowns 2 (Moosa, Chafunya) Chiefs 1 (MacGregor)
Castle Challenge QFinal - Chiefs 1 (Khuse) Sundowns 0
1992
Chiefs 4 (MacGregor, Khuse 2, Tovey) Sundowns 0
Sundowns 0 Chiefs 3 (MacGregor , Khumalo, Modau)
BP Top 8 Final - Chiefs 1 (Khuse) Sundowns 0
1993
Chiefs 0 Sundowns 2 (P Masinga, Mtawali)
Sundowns 2 (Mtawali 2) Chiefs 1 (Radebe pen)
BP Top 8 QFinal - Chiefs 0 Sundowns 2 (Masilela 2)
1994
Chiefs 3 (Shaw 2, Amukola) Sundowns 2 (Motaung, B Masinga)
Sundowns 0 Chiefs 1 (Mabena)
BP Top 8 Final - Chiefs 3 (Nyirenda 2, Maringa) Sundowns 2 (Motaung, Mudau)
1995
Sundowns 1 (Phetla) Chiefs 0
Chiefs 0 Sundowns 0
Coke QFinal - Sundowns 0 Chiefs 1 (Mthethwa)
Bob 2nd Rd - Chiefs 3 (Seale, Tshisevhe, Lebese) Sundowns 2 (Molefe, Mudau)
1996
Chiefs 2 (Gqosha, Modise) Sundowns 0
1996/97
Chiefs 2 (Mooki, Ndlanya) Sundowns 0
Sundowns 3 (Makalakalane 2, Chukwu) Chiefs 1 (Mooki)
1997/98
Sundowns 0 Chiefs 0
Chiefs 2 (Masunda, Mooki) Sundowns 0
RC Final - Chiefs 1 (Lebese) Sundowns 1 (Chukwu)
RC Final Replay - Sundowns 1 (Chukwu) Chiefs 1 (Muchichwa) Chiefs won 3-2 on penalties
1998/99
Sundowns 0 Chiefs 0
Chiefs 1 (Mooki) Sundowns 2 (Ramasike, Mudau)
Rothmans Cup Final – Chiefs 2 (Mooki, Nomvethe) Sundowns 2 (Masilela, Bapela) – Chiefs win 2-1 on penalties
1999/2000
Chiefs 1 (Makua) Sundowns 1 (Tshisevhe (of)
Sundowns 3 (Feutmba, Shai, Manzini) Chiefs 1 (Nomvete)
Bob Save Final – Chiefs 1 (Nomvete) Sundowns 0
2000/01
Chiefs 2 (Nomvete 2 (2pens)) Sundowns 1 (Chukwu)
Sundowns 0 Chiefs 1 (Evans (of))
BP Top 8 3rd Place – Chiefs 3 (Pule, Nauseb 2) Sundowns 2 (Meiring, B.Mnguni)
Bob Save Super Bowl semi final – Chiefs 0 Sundowns 2 (Chukwu 2)
2001/02
Sundowns 1 (Mudau) Chiefs 0
Chiefs 1 (Nzama) Sundowns 1 (Bapela)
BP Top 8 Final – Chiefs 2 (Zwane, Nzama) Sundowns 2 (Mudau 2) – Chiefs won 7-6 on penalties
2002/03
Sundowns 0 Chiefs 0
Chiefs 2 (Mushangazhike, Mabedi (pen)) Sundowns 0
2003/04
Chiefs 2 (Moshoeu, Mayo) Sundowns 0
Sundowns 0 Chiefs 2 (Moshoeu, Kannemeyer)
ABSA Cup 1st Rd – Sundowns 1 (Jordaan) Chiefs 3 (Moshoeu, Dlamini, Mendu)
2004/05
Chiefs 1 (Mbesuma) Sundowns 1 (Ngwenya)
Sundowns 3 (Mashe, Sapula, Mthombeni) Chiefs 4 (Radebe, Mbesuma 3)
2005/06
Chiefs 1 (Obua (pen)) Sundowns 0
Sundowns 3 (Dladla 2, Moriri) Chiefs 1 (Obua)
ABSA Cup semi final – Chiefs 0 Sundowns 0 – Chiefs won 2-1 on penalties
2006/07
Chiefs 0 Sundowns 0
Sundowns 2 (Chabangu, Torrealba) Chiefs 1 (Fernandez (pen))
2007/08
Chiefs 0 Sundowns 0
Sundowns 1 (Dladla) Chiefs 0
Telkom Knockout Final – Chiefs 0 Sundowns 0 – Chiefs won 3-2 on penalties
Nedbank Cup 2nd Rd – Chiefs 1 (Khanyeza) Sundowns 1 (Moriri) – Sundowns won 5-4 on penalties
2008/09
Sundowns 0 Chiefs 1 (Ogbonna)
Chiefs 1 (Nale) Sundowns 0
MTN 8 Final – Chiefs 0 Sundowns 0 – Chiefs won 4-3 on penalties
2009/10
Sundowns 2 (Mphela 2 (1 pen)) Chiefs 2 (Musona, Tshabalala)
Chiefs 1 (Dladla (pen)) Sundowns 2 (Mphela, Xulu)
Telkom KO quarter final – Sundowns 0 Chiefs 1 (Masango)
2010/11
Chiefs 1 (Motaung) Sundowns 0
Sundowns 2 (Mushekwi, Pelembe) Chiefs 0
2011/12
Sundowns 0 Chiefs 1 (Sweswe)
Chiefs 2 (Ngcobo, Tshabalala) Sundowns 0
2012/13
Chiefs 2 (Nkosi, Nkhatha) Sundowns 1 (Daniels)
Sundowns 0 Chiefs 0
MTN8 Quarter final – Sundowns 4 (Sangweni, Langerman, Mokoena, Manqele) Chiefs 1 (Letsholonyane)
2013/14
Sundowns 0 Chiefs 1 (Arendse of)
Chiefs 0 Sundowns 1 (Modise)
2014/15
Chiefs 1 (Lebese) Sundowns 1 (Modise)
Sundowns 0 Chiefs 1 (Parker)
2015/16
Chiefs 0 Sundowns 0
Sundowns 3 (Castro, Nthethe pen, Katsande og) Chiefs 1 (Gordinho)
Telkom Knockout final – Sundowns 3 (Castro, Nthethe, Kekana) Chiefs 1 (Abraw)
2016/17
Sundowns 2 (Langerman, S.Vilakazi) Chiefs 1 (Mphahlele)
Chiefs 2 (Parker, Soumahoro) Sundowns 1 (Billiat)
2017/18
Sundowns 1 (T.Zwane) Chiefs 2 (Ngezana, Parker)
Chiefs 0 Sundowns 0
2018/19
Sundowns 1 (Nascimento pen) Chiefs 1 (Mphahlele)
Chiefs 1 (Katsande) Sundowns 2 (Laffor, Maboe)
2019/20
Sundowns 0 Chiefs 2 (Nurkovic 2)
Chiefs 0 Sundowns 1 (Sirino)
2020/21
Chiefs 0 Sundowns 3 (Shalulile, Erasmus, T.Zwane)
Sundowns 1 (Sirino) Chiefs 2 (Lebusa og, Zuma)