Babize Bonke Bazozw'iDiski during the 2021/22 DStv Premiership season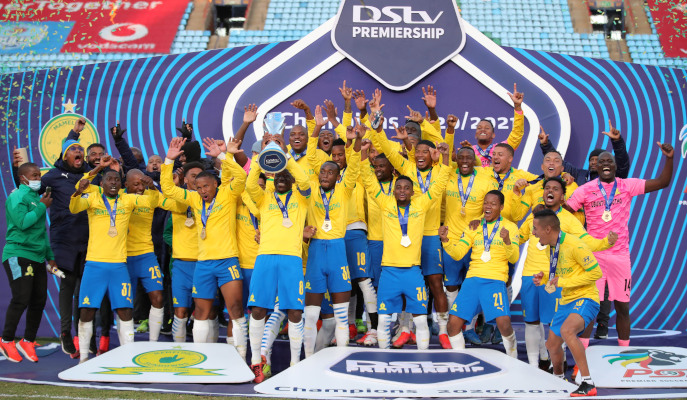 Diski lovers will once again have a front-row seat to all the exhilarating on-the-pitch battles between the top 16 soccer teams in the PSL as the DStv Premiership kicks off on Friday 20 August.
Following a thrilling and action-packed inaugural season of the premiership, DStv today revealed its latest campaign calling all soccer faithful's to experience the best in local football.
Babize Bonke was DStv's popular call to all South Africans to come together in the experience of a common passion and love for the beautiful game. This season, through its reinvigorated tagline Babize Bonke, Bazozw'iDiski, South Africans are invited to come together to feel, hear and touch football. Through multiple touchpoints throughout the season fans will have access to unforgettable experiences and moments around the DStv Premiership.
"Although the pandemic disrupted many of the ways in which local fans are used to enjoying the game and gave our brand limited opportunities to interact with them, the fans' energy and immovable support for their teams and the game continues to be the inspiration and catalyst for excellence on the field of play, for football administrators and sponsorship partners like ourselves," says Thabisa Mkhwanazi, Executive Head of Marketing, MultiChoice.
'Bazozw'iDiski is our renewed focus on giving our DStv customers, soccer lovers and followers an elevated experience of the new season, whether they are watching the matches in the comfort of their home or out and about with their friends and family," Mkhwanazi adds.
PSL Acting CEO, Ms Mato Madlala says it is all systems go for the start of the DStv Premeirship season.
"After a challenging but successful 2020/21 season, we are ready to kick-off the new DStv Premiership season this weekend. We are excited by the innovations introduced by our partners DStv for the new season which will ensure that the fans remain part of the conversation.The DStv Premiership is a very unique league and its unpredictability adds to the excitement. We have all seen in previous seasons when the championship, top 8 and relegation places have been decided on the last day of the season and we expect much of the same in the 2021/22 season, " said Madlala
The league action will kick-off with the highly-anticipated clash between defending champions Mamelodi Sundowns and last season's runners-up AmaZulu FC in the capital, Tshwane on Friday night. All matches will be broadcast live from SuperSports PSL (DStv channel 202).
DStv wishes all the teams the best of luck for the season ahead as they battle for bragging rights of being crowned 2021/22 league champions as well as receiving R15 million after the 10-month long marathon next May.