Babina Noko see off abafana Bes'thende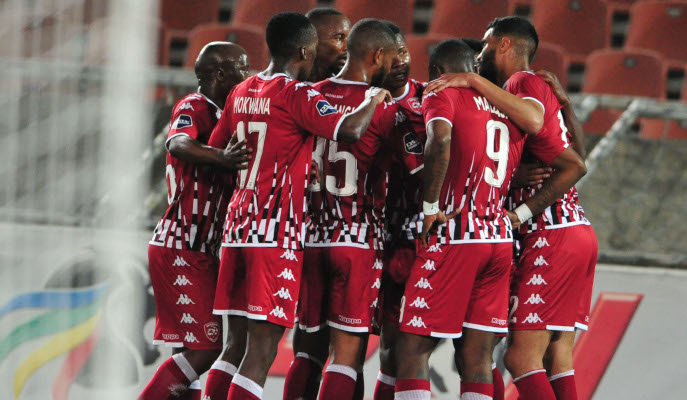 Sekhukhune United recorded a 1-0 win over Golden Arrows in the DStv Premiership on Wednesday night, as Babina Noko established their first victory of the 2022/23 PSL season.
There was very little to separate the two teams in the first 10 minutes of the game, with neither side making in roads on an attacking front. However, the home side looked more assured in possession, as they looked to string passing moves together.
Sekhukhune carved out a couple of goalscoring opportunities, one of which saw Tshegofatso Mabasa being blocked at a crucial moment, as he prepared to have a go at Nkosingiphile Gumede's goal.
As Babina Noko found themselves on the front foot towards the 20 minute mark, Arrows were reduced to hitting the home side on the break. However, Arrows were unable to infiltrate the Sekhukhune defence.
With 30 minutes on the clock, ABafana Bes'thende bossed the possession statistics and were seeking to assert themselves on the fixture. Arrows could have taken the lead in the 32nd minute, as Velemseni Ndwandwa's header went slightly wide of the goalkeeper's right.
Sekhukhune United took the lead on the stroke of halftime, as Tashreeq Morris opened his account for his new club. Victor Letsoalo found the lanky forward with a pass inside the area and subsequently put the ball into the back of the net.
The hosts had the first sniff of goal in the second half, as Roderick Kabwe's shot from range missed the crossbar by inches. Soon thereafter, Ryan Moon's half-volley in the opposite penalty area prompted Nsabata to make a point blank save.
With the introduction of Moon, Arrows looked dangerous going forward and began manufacturing goal scoring opportunities just shy of the 60 minute mark.
Arrows pressed on as the 70th minute approached and took the game to Sekhukhune United, giving the likes of Edwin Gyimah and Daniel Cardoso a number of questions to answer.
The travelling outfit had the chance to level matters with around 10 minutes to go, Pule Mmodi found himself in a position to square the ball across the area with Moon lurking in the area. However, the attacker opted to have a go himself but his effort went wide of the mark.
Arrows' persistence in wining the ball high up the pitch nearly paid off during the closing stages of the match, as the home side committed mistakes in trying to pass the ball out of their penalty area.
The game ended in a 1-0 victory for coach Kaitano Tembo's men, while Arrows suffered their second loss.
Sekhukhune United: (1) 1(Morris 45')
Maritzburg United: (0) 0
TEAMS:
Sekhukhune United:Nsabatha, Mahlangu (Mobbie 46'), Gyimah, Cardoso, Kabwe, Mokwana, Mntambo, Ntiya-Ntiya (Farmer 72'), Letsoalo, Mabasa (Motsepe 88'), Morris (Madonsela 46')
Golden Arrows:Gumede, Lunga, Zuke, Nxadi, Cele (Moon 46'), Dlamini, Dube, Mhlongo, Sibiya, Ndwandwe (Mutizwa 62'), Mmodi